My life has been so hectic lately and I have had little to no time to do something civilized, and just for me. My sweet friend, Christine made reservations at the English Rose Tea Room in Carefree, Arizona for my birthday celebration. I cannot believe I did not know about this establishment and it is a complete delight! I am so excited to share this with you because don't we all need a little more civilized experiences in our lives?
About the English Rose Tea Room
From their website: Established in 2002, the English Rose Tea Room is regularly voted Best Place for Afternoon Tea by Phoenix Magazine….and I can see why.
With an interior to rival the Ritz Hotel and a romantic, shady patio for tea al fresco, the English Rose Tea Room is a true gem in the desert. From scones to crumpets to cottage pie or a Ploughman's lunch, you are guaranteed a culinary experience to remember.
Gorgeous Interior
Upon arrival, you instantly feel transported to an English garden, abundant with roses, hydrangeas and flowers in all shades of pink and white.
Even the chairs have teacups and teapots painted on the back.
The minute you set foot in this dreamy place you feel like a character on Downton Abbey.
The Outdoor Patio
Our table is on the outdoor patio in an equally lovely setting. The table for two is perfectly set with a tablecloth, vintage tea cups, dishes accordion-folded napkins and menus. And check out those chandeliers, laden with roses and tea cups dangling below.
The patio is equipped with a misting system which instantly cools down the air temperature by 5 to 10 degrees.
Formal Afternoon Tea
The Formal Afternoon tea includes a 3-tiered selection of sandwiches, scones, petit fours and a selection of tea. Gluten-free options are also available. This is plenty of food for both of us, but I ate far more than Christine!
The scones with clotted cream and fresh strawberry jam are so delicious. I am obviously too busy eating one to get a good photo. Even the cream and milk for the tea comes in this sweet container.
Small Shop
There is a small shop with tea related items and a wide variety of tea for purchase. Don't you just love how they use teapots as room dividers?
And of course, you can always take your picture with Queen Elizabeth!
Outside the tea room is the quintessential British telephone booth, complete with a wall of roses.
And here is my sweet friend, Christine who made this delightful birthday experience possible.
Such pretty details like this vintage bike and basket full of flowers, makes the tea room experience flow to the exterior of the building.
All the Details
What a wonderful place to visit and experience great food, delicious tea, a lovely setting and a chance to have good conversation with a dear friend. I definitely need more of this in my life. The English Rose Tea Room also has etiquette classes for children, scouts and young adults.
It is never too late to brush up on your table manners, tea party manners and general etiquette. Also, the tea room hosts private events for bridal and baby showers, birthdays and celebrations. Here is the link to their website.
As you can imagine, reservations are a must as they fill up very quickly. They are open 7 days a week and I can tell you, I will be back. And I would love to take our guests and visitors to show them an English Tea Room in the desert.
Inspiration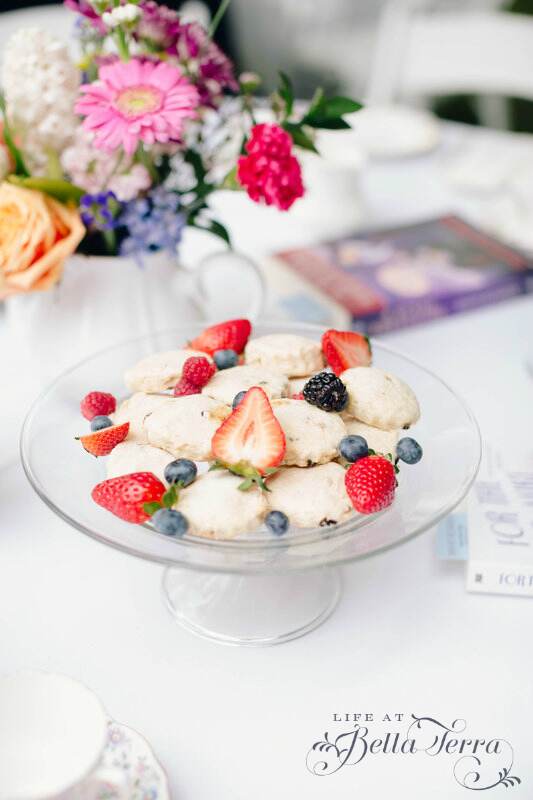 Now I want to host a tea party. Don't we need to get back to the simpler times where we conversed over tea and scones? My very first blog post is about a charitable tea we hosted with New York Times best-selling author, Rhys Bowen. This event was such a success that we did it again the following year. But with the pandemic and all the other nonsense going on in the world the ability to socialize in large gatherings is a bit diminished.
But now after having the English Rose Tea room experience, I would love to do another tea party. Who's in?
Happy Wednesday and thank you again for joining me. Hopefully you will be inspired to take a sit and enjoy a cup of tea today.